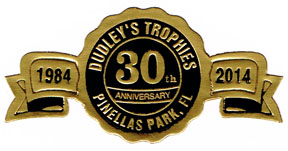 Dudley's Wholesale Trophies website.  A site dedicated to serving little leagues, car clubs, businesses and anyone holding special events. Why pay retail when you can buy WHOLESALE? We've been selling trophies and plaques since 1984  in Pinellas Park, Florida. We have recently moved to 6401 49th Street N.

Select your trophies & plaques in the right sidebar. Some awards appear in several categories.  You can search for your trophy by entering an exact style – e.g. "piston" or "eagle" in the search window.
When choosing a due date allow at least five working days from the day you place your order until we ship. Please consider the time it will take to reach you from Florida. Click HERE to see the shipping chart.
**We will not be laser engraving any awards until further notice.**
All orders over $100 will automatically receive
FREE SHIPPING*
*Requires advance payment. Not valid for sale items.
We will be closed from December 23rd to January 2nd for the Christmas/New Years holidays. You can still place online orders, however we will not be shipping during this time.



Check out all the sports trophies ON SALE or in
CLOSEOUT categories on the sidebar. Some over half price off!
Also check out our FEATURED PRODUCTS page.
Ordering from our site is easy. Click on "Ordering/About Us or FAQ" menu above for any questions you may have.
New Car Show Trophies and Plaques For Sale Now: