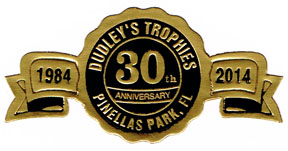 Welcome to Dudley's Wholesale Trophies website.  A site dedicated to serving little leagues, car clubs, businesses and anyone holding special events. Why pay retail when you can buy WHOLESALE? We've been selling trophies and plaques since 1984 here in Pinellas Park, Florida.

Select your trophies & plaques in the right sidebar. Some awards appear in several categories. All trophies come with 3 lines of lettering (black on gold) unless otherwise noted and are included in price. Plaques come with lettering or engraving and one logo or artwork unless otherwise noted.
NOTE: When ordering multiple trophies or plaques of the same style, color, height, etc. please do not order one at a time. Enter your total for that trophy style and either place all your wording in the text box provided or after you have completed your order click on "Trophy/Plaque Personalization" in the menu bar above and enter or upload all your text there. We will match it up to your order.
Please allow 10 working days from the day of your order is placed until we ship. Check the "Shipping" menu above to see how long it will take to reach you from Florida.
Check out all the sports trophies ON SALE or in
CLOSEOUT categories on the sidebar. Some over half price off!
Also check out our FEATURED PRODUCTS page.
Ordering from our site is easy. Click on "Ordering/About Us or FAQ" menu above for any questions you may have.
New Car Show Trophies and Plaques For Sale Now: